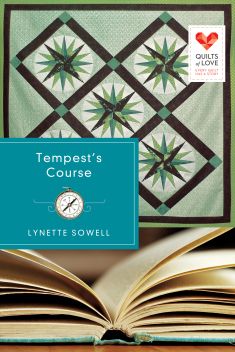 A Quilts of Love book.
Kelly Frost, a textiles conservator, is invited to the Massachusetts coastal city of New Bedford to restore a 150-year-old Mariner's Compass quilt. But there is one stipulation: she must live and work in Gray House, a former whaling captain's home, where the quilt is stored. There she meets Army veteran Tom Pereira, the caretaker of Gray House, whose heart seems as hard as the rocky Massachusetts coastline.
Over the long-lit months as Kelly works to restore the quilt, she and Tom grow closer. And as she reads stories in a daily journal penned by Mary Gray, she learns the secrets of the quilt and Mary's own sad tale of regret. Then Tom learns secrets of his own family's past, and both Tom and Kelly learn they are tied to Gray House in ways they never imagined.
Purchase a copy here
.
I love the Quilts of Love series. Lynette Sowell does a super job quilting together a story of romance, suspense and history all into one book. Tempest's Course will capture you from the first page to the last. It keeps you turning the page with each surprise when you aren't expecting it. She draws the reader in early and keeps you hooked throughout the entire book. It's a book you don't want to miss out on that is for sure.
Learn more at:
http://www.quiltsoflovebooks.com
Lynette Sowell was born in western Massachusetts in the shadow of the Berkshire Mountains, raised on the Eastern Shore of Maryland, and now makes her home on the doorstep of the Texas hill country. The award-winning author of more than 15 titles, Lynette loves reading, cooking, watching movies, and is always up for a Texas road trip. When not writing fiction, she works in medical transcription and is a freelance writer and columnist for her local newspaper.
http://litfusegroup.com/campaigns/lynnette-sowell-tempests-course
A copy of this book was provided for in exchange for my review and hosting this tour by...