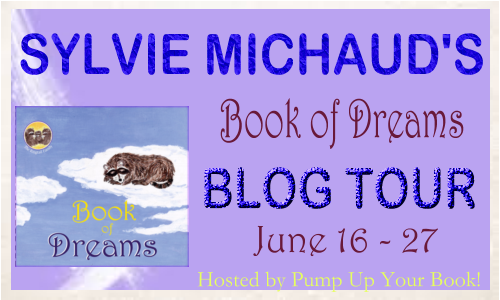 About the book:
Book of Dreams
sees Baby Raccoon's parents use clouds to share their dreams of a better future. In the story, Mama and Papa use clouds to share their dreams about a healthy planet and vibrant future for Baby Ringtail. In the book, Baby Ringtail asks Mama and Papa, "Why is every cloud a different shape?" "Clouds are pictures in the sky that help us dream," Mama Ringtail replies.
Book of Dreams is a delightful book. It has such a dreamy mood to it. The way the author uses the shapes of clouds and dreaming is excellent. What person doesn't try to see shapes in the clouds? It's a fun game to play with your youngster on a sunny summer day when they are bored. Read Michaud's book and dream with your child. See what shapes you can find you the sky above your head. The author uses lots of description to help bring creative images to the reader's imagination. The water color illustrations help to set the mood of the book beautifully. They are an added bonus to the prose of this book. Definitely a Book to Dream with.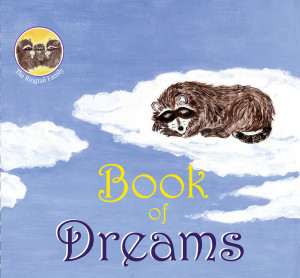 Author: Sylvie Michaud
Genre: Children's bedtime stories
Publisher:
Crafty Canuck, Inc. (March 28, 2012)
ISBN-13:978-0-9782955-8-5 (Print Soft Cover)
Sylvie Michaud is a North Vancouver, BC based writer and graphic designer. After years as a writer, editor and designer for The Canadian Red Cross Society newsletter, "The Responder", Sylvie has gone on to write for several other groups & magazines including Pacific Yachting, GardenWise and the North Shore's own Lynn Valley Literary anthology, "Wintertide."
In 2011, Sylvie won the Lynn Valley Literary Society's short story contest for "Fire and Fortune."
In addition to her literary background, Sylvie is the ower of Blackbarn Crafts where she designs, produces and sells handmade crafts for crafts shows and other online venues.