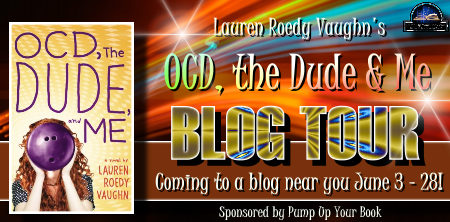 click icon above to go to the book tour page

by author Lauren Roedy Vaughn
I'm sitting at dinner with my mom and dad and staring down at my thighs. They take up way too much space on the chair. I'm trying to mentally suck in my thighs. My mom's thighs only take up a fraction of space on the newly upholstered dining room chairs; her thighs are as lovely as the chairs. Not so much mine.
I'm currently worried that the mash potatoes I'm eating will travel straight down to my thighs and burst open the seams of my jeans. I know that's impossible, but I can't stop myself from thinking about it. These are the kinds of thoughts I have during dinner. This is just how my mind works.I put the cloth napkin over my thighs so a huge portion of their real estate is hidden from view. Okay, Danielle, stop thinking about your thighs. Force yourself to have some other thoughts.
Good thoughts I force myself to have during dinner:
1.
I'm on page 226 of
Pride and Prejudice
. I'm rereading it for the fourth time. Very satisfying.
2.
If my thighs don't explode during dinner, maybe I can watch a Jake Gyllenhaal movie before bed. Awesome.
3.
Aunt Joyce is coming over this weekend. Fabulous. She's taking me to a see the Restoration comedy that she designed the costumes for. Can't wait.
4.
I hope she can snag me a dress and a few hats after the run of the show.
5.
Will try on all my hats after dinner.
6.
Had to have a sixth thought because I don't like to end on odd numbers.
I'm uber glad people can't hear my thoughts. They would think I'm as nuts as I know I am. That reminds me that I better check the lock on my me-moir binder. All my writing, all my thoughts, all my emails and secret journals live there, and I can't remember if I locked it.
"Mom, may I be excused?"
"You just sat down to dinner."
"I'm not that hungry and I'm protecting my thighs."
"Finish your dinner and then you can be excused. Your thighs are perfectly fine."
Sometimes my mom is clueless.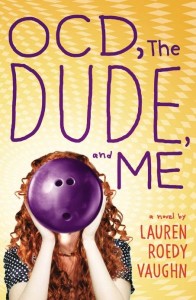 Seventeen-year-old Danielle Levine is your typical high school teenager – if you count having OCD and ADHD as typical. Danielle's "special" conditions lead her to a school for students with learning disabilities, and, even here, she struggles to fit in.
How Danielle navigates her status as a "learning-challenged" teen pariah is told, with equal parts pain and hilarity, in Lauren Roedy Vaughn's debut Young Adult novel,
OCD, THE DUDE, AND ME,
which Kirkus Review has hailed as a "must-read
."
Purchase your copy online: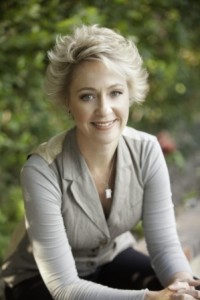 Lauren Roedy Vaughn is especially equipped to write Danielle's story. She has been a special education teacher and a writer for nearly 20 years. In 2005, she received the Walk of Hearts Teaching Award, and she serves on the Board of the International Dyslexia Association's Los Angeles Branch. She was born in Cincinnati, Ohio, and moved to Honolulu, Hawaii, when she was in elementary school. She came to California for college, met her husband at the University of California, Irvine, and they have lived in Southern California ever since. Together, they share a love of
The Big Lebowski
. When not teaching, reading, or writing, Lauren is usually on a yoga mat.
Her latest book is the contemporary humorous young adult fiction,
OCD, the Dude & Me
.
You can visit Lauren Roedy Vaughn's website at
www.laurenroedyvaughn.com
Connect & Socialize with Lauren!
This article was provided in exchange for this post by...