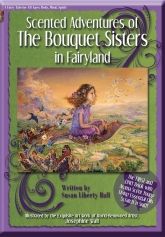 It's mystical, it's magical it's a land of fairies.
Scented Adventures of The Bouquet Sisters in Fairyland
by Susan Liberty Hall will transport you right to the middle of fairyland as you experience a wonderful aroma scented adventure while you read. It's the first book of its kind presents Young Living Essential Oils with aroma scents release feature. Why not get started flying around the world with the Bouquet Sisters on a magic carpet today. It's a one-of-a kind book; a journey where you'll encounter fairies, elves and gnomes and learn how essential oils can help in healing.
To learn more about this book visit the web site
here
A copy of this book was provided by the author and
Bostick Communications
for the purpose of this review.