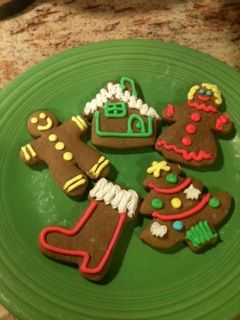 AN AMISH COUNTRY CHRISTMAS features many of my longtime favorite Christmas cookie recipes in the "Sugar and Spice" section, so I've decided to share one here, along with a little insight into why I love it. For more than 20 years I've baked cookies to send to family, friends, my editors—and when I lived in Missouri, I donated 25 dozen for my church's Christmas Eve service, along with several more dozen for church dinners. I was baking about 150 dozen and cramming them into my deep freeze. That's a lot of cookies!
Now that we've moved to Minnesota and my cookie demands have diminished, I still bake about 75 dozen. I've included only tried-and-true recipes in my Christmas anthology, and this one for gingerbread comes from a historic cookbook from Williamsburg, Virginia. I've made these cookies for more than 20 years now—the dough's a little sticky, so I mix it and chill it a day or two before I bake the cookies, and then I cut them out on a well-floured countertop, practicing my patience! I'm never disappointed! The cookies retain their shape as they bake and they're spicy and soft as long as you don't overbake them.
If you want to make these as Christmas tree decorations, use a drinking straw to cut a hole at the top of each cut-out before you bake them. Then you can run a length of ribbon or thread in the finished cookie, as a hanger. While these look stunning on a tree, I prefer to keep them fresh for eating. I only bake these once a year, and the thought of them getting hard and stale while hanging on the tree seems like a waste of a really good cookie!
For more of my favorite Christmas cookie recipes, look in the back of AN AMISH COUNTRY CHRISTMAS, or check my website at
www.CharlotteHubbard.com
. Meanwhile, I wish you and your family your most blessed, wonderful holiday season ever!
Williamsburg Gingerbread Cut-Outs
½ C. softened butter (no substitutes)
1 C. sugar
2 T. cinnamon
2 tsp. ground cloves
2 T. ground ginger
1 T. lemon flavoring
¾ C. evaporated milk
1 C. molasses
5 C. flour
1 ½ tsp. baking powder
1 tsp. salt
Cream the butter and sugar. Add the flavorings and evaporated milk and blend well. Add the molasses, and then the dry ingredients until the dough is thoroughly mixed. Wrap in wax paper and chill overnight (or it'll keep in the fridge for a few days).
Preheat the oven to 350º. Working with about a fourth of the dough at a time, roll out to ¼" thickness on a well-floured surface, rubbing flour on the rolling pin and dunking the cutters into the flour as needed (patience, remember!) Cut out the cookies and space them about an inch apart on pans lined with parchment paper. Bake 7-8 minutes—don't let them brown!—and allow to cool for a minute on the pan before removing them to a wire rack. Frost/decorate with buttercream and allow the frosting to dry/set up. Store between sheets of wax paper. Freezes well. 7-8 dozen.
This is the recipe I learned long ago in a cake decorating class. I love it because it doesn
'
t taste like shortening, and it dries firmly when you decorate cookies or cake. It also freezes well in a covered container if you have any left over.
1/2 C. softened butter (no substitutes)
6-8 C. (about a pound) confectioners sugar
In a mixing bowl, blend the milk, butter, shortening, and flavorings. Blend in the sugar a cup or two at a time, scraping the bowl, until the frosting is thick and forms peaks.
For colored frosting, use paste coloring to maintain a thickness that will hold its shape during decorating. Makes enough to decorate/frost 6 batches of cookies, or a cake.
Kitchen Hint
: I divide my frosting into 4 or 5 plastic containers and color one batch with deep pink, one batch with yellow, one with green, one with sky blue and I leave some white. Then I get out my pastry bag and decorating tips, the sanding sugars, jimmies, and miniature M&Ms, and I play! Let the decorated cookies dry/set up for several hours before you store or freeze them.
"Seasons of the Heart" series
10/13: AN AMISH COUNTRY CHRISTMAS anthology
11/13: AMANDA WEDS A GOOD MAN
Learn more about this book @ the book tour site page
here
.