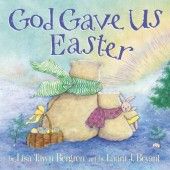 Papa bear explains to little bear that Easter is even better than Christmas. He helps his cubs understand what Easter is all about and why God gave us Easter. He uses an egg to help him illustrate to Little Cub about Jesus' death and the tomb. He explains how out of death comes life. This is a very good book to help start your young one thinking about the true meaning of Easter. A very good book to use to get questions started. The illustrations are just a good as the story itself. I love Lisa's books, they are wonderfully written just geared to children.
"God loved us so much he wanted us to always be with him too. That's why God knew he'd need to give us Easter."
As Little Cub celebrates Easter with Papa, Mama, and her brother and sister, she begins to ask her papa questions about this very special day of the year. Papa lovingly explains God's plans for his children, while taking Little Cub on a memorable walk through her stunning Arctic world, and he shares how Easter came about in clear, simple terms that even the littlest cubs can understand.
free coloring picture
author's website
more information about the book
read an excerpt here
Lisa T. Bergren
is the author of over forty books, with nearly two million copies sold. Her work includes children's books, historical and contemporary fiction, women's nonfiction, and gift books. A freelance writer and editor, Lisa lives in Colorado Springs, Colorado. She and her husband, Tim, are the parents of three children.
A copy of this book was provided free for this review by WMPG.