Teaser Tuesdays is a weekly bookish meme, hosted by MizB of Should Be Reading. Anyone can play along, so I thought I would play for fun! Just do the following:
Grab your current read

Open to a random page

Share two (2) "teaser" sentences from somewhere on that page

BE CAREFUL

NOT

TO INCLUDE SPOILERS! (make sure that what you share doesn't give too much away! You don't want to ruin the book for others!)
Share the title & author, too, so that other TT participants can add the book to their TBR Lists if they like your teasers!
OK this teaser is going to be a bit different.... since I'm taking it from A Cascades Christmas which is a 4-in-1 book you are going to get a total of 4/TT and 4 First Chapter/First Paragraphs. Now how much more in the Christmas Season is that..... Hope you enjoy.....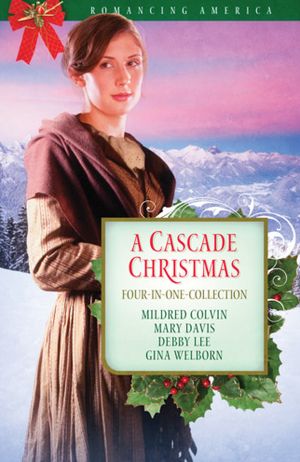 1.) Taken from p.30
Home for the Holidays
by Mildred Colvin
Anna ran across the backyard to the garden shed. She changed into her boots and grabbed her pole. If only she could stash her skirt here.
2.) Taken from p.172
One Evergreen Night
by Debby Lee

Chicago wasn't anything like she expected. She wanted to go home to Washington, but she couldn't bear the thought of being away from Jake.
3.) Taken from p. 201
All Ye Faithful
by Gina Welborn
Larkin opened her heavy lids to the sunlight brightening her pristine white bedroom, only to shield them from the painful light. She tried to raise her head from the many pillows behind her, but her head, neck, and shoulders ached.
4.) Taken from p. 337
A Carpenter Christmas
by Mary Davis
Sassy barked at her and ran into the storm then returned and barked again. She went back and forth several times. Matthew came up beside her. "I think she wants us to follow her."
1.)
Home for the Holidays
by Mildred Colvin
Anna Wilkins missed her trousers. Not that she wore them all the time, but they were a lot more comfortable than the new party dress she'd made for her best friend, Larkin's, birthday party. The lace around her neck scratched, and the bustle Larkin talked her into adding felt like a cage attached to her backside. She ran her finger around her neck for the tenth time.
2.)
One Evergreen Night
by Debby Lee
Frederick Corrigan piled firewood into the furnace of the locomotive. The rattletrap he'd given the pet name Inferno swayed violently from side to side as it careened down the hill. Frederick braced his hands against the walls and struggled to remain in a standing position. At the speed the train was going, he would have no time to jump if it derailed.
3.)
All Ye Faithful
by Gina Welborn
"I've decided to throw caution to the wind and tell E.V. how I feel," Larkin Whitworth happily announced before plopping down in the wooden chair despite the fullness of her skirts and petticoats....
(oh, I can't give any more of this first

c

hapter first paragraph it may have spoilers in it from Home for the Holidays. Sorry)
4.)
A Carpenter Christmas
by Mary Davis
Natalie Bollen tried to pick out the solid areas of mud, if there were such a thing. But everywhere she stepped her boots sank in at least an inch, if not three. She balanced herself with an umbrella in one hand and held her skirt up in the other. Rain tapped on the fabric of the umbrella like a soft symphony. She loved how a shower cleaned the air and made everything smell so fresh.