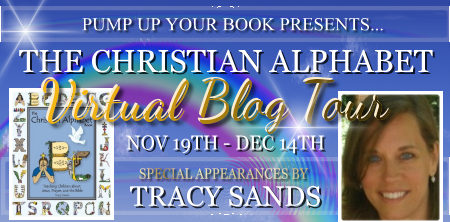 In 1999, the Lord inspired me at a church choir event. As I sat in the back pew, listening to the awesome Christian music, an incredible urge to draw came over me. Being an art teacher, I had experienced this feeling, but never with such intensity. I had a pen in my pocket, but the only paper available was the program I received at the door. In the empty space of that program, I sketched like crazy. I felt as though I would pop if I didn't get the ideas out of my brain immediately.
I will never forget that experience. I felt peaceful yet energized. God was just getting started with me. Over the next nine months, God and I created this alphabet.
The concept and message of the book is wonderful. Getting your kids to learn the Christian ABC and what they stand for; however, I thought the images and symbols leaned toward Catholic faith. The book is more of a teaching a lesson book than recreational story book to set down and leisurely read me a story. Each letter has a Christian word, symbol, and Bible verse associated with it. You'll find lesson tips and activities to go along with and a closing prayer. Each letter covers two pages. There are pages in the back that explain the different symbols and their meaning. I really love the song (listen
here
and get the lyrics) A very effective way for teaching children. A fun teaching resource.
Visit the

Christian

Alphabet web site here where you'll find information about the book, the Christian ABC song

(that goes with the book), and gifts to order.

Tracy Sands is from Peachtree City, Georgia, where she lives with her husband, Albert, and their three sons, Chase, Gabe, and Adam. Tracy taught art and "church school" to all ages for many years. She now spends her time caring for her active family and working on The Christian Alphabet™.
To find out more, please visit her at
www.thechristianalphabet.com
A copy of this book was provided in exchange for my honest review by...