Teaser Tuesdays is a weekly bookish meme, hosted by MizB of Should Be Reading. Anyone can play along, so I thought I would play for fun! Just do the following:
Grab your current read

Open to a random page

Share two (2) "teaser" sentences from somewhere on that page

BE CAREFUL

NOT

TO INCLUDE SPOILERS! (make sure that what you share doesn't give too much away! You don't want to ruin the book for others!)
Share the title & author, too, so that other TT participants can add the book to their TBR Lists if they like your teasers!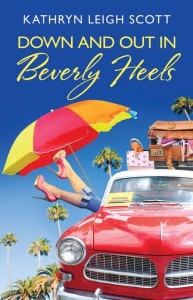 I rang the bell before unlocking the front door, even though I knew Paul wasn't home. Otherwise he'd have bounded down the walkway as soon as my car pulled up. I would have seen him striding toward me, tanned and grinning, his shirttails flapping over well-worn khakis, eager to sweep me up in his arms. Instead, I was greeted with newspapers yellowing on the front steps. I pulled the key from the lock and stepped inside to dense silence and the mustiness of a house shut up, unoccupied-how long? Three weeks?
~taken from p. 1 of
Down and Out in Beverly Heels
by Kathryn Leigh Scott
My husband and his mistress are dead-offed by a hit man the cops think I hired. I shift in my chair, trying to look calm. My lips stick to my teeth, but I manage to keep smiling as my mind grapples with the inane plot line of the script.
~taken from
Down and Out in Beverly Heels
by Kathryn Leigh Scott