Today I thought I'd post about a cute book that I won about 6 weeks ago. I was so excited when I learned I won a copy of this book. Georgia is just one of the states that has already been published
(See a listing of other books in this series here)
The Twelve days of Christmas follows the song (with word changed) with this particular book the author takes the reader to sites around the state of Georgia. Sh! don't tell the reader, but the reaader is learning while reading this catchy little rhyming book. Fun facts about Georgia are learned as you travel with Jacob and his cousin, Ava. Each day takes them on a new adventure and gives them a new learning experience. At the end of the day Jacob writes his parents a note telling them about the fun he is having while visiting his cousin in Georgia and what he is learning. The illustrations of this book are just as catchy as the rhythm.
Books and learning last ~ give a book for Christmas.
Visit The Twelve Days of Christmas in Georgia
website
for fun activities, recipe, downloads and more
The author tells of her research adventures for this book
here
.
Find other titles in this series
here
Read an author interview
here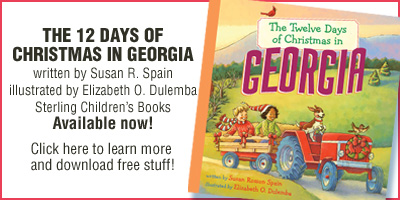 NOTE: As mentioned above this book was one I won. I was not paid or compensated in any way for this book review. I just wanted to get the word out about this book. The review is my own words, thoughts and opinions.