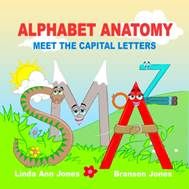 Explore the Art of Learning the Letters and their Lives ALPHABET ANATOMY looks behind the scenes at the letters … because they're not always busy making words.
In Linda Jones' book A

lphabet

Anatomy it is all about forming the letters. Jones and put together a very cute book for kids that are learning to form their letters. And what better way than in a fun reading book.

T

his particular book deals with the

formation

of the capital letters

.

T

he small alphabet anatomy is yet to come in another book. This book could be used in so many ways. It also catches their attention in that it is written in rhyming verse. The illustrations are just as instructive as the words themselves in that they see how to write the letter. Each letter is portrayed with its own unique personalit

y and characteristics.
Here are four things that your child will

learn by the end of this book:
letter shape and

/or recognition

letter names

letter sounds

how to form the letter
Thus giving them the foundation for proficie

nt reading
phonologi

cal awareness

letter ide

tification

vocabular

y development

recalling and retelling sentences and stories
I don't think you could ask for a more worth w

hile book to invest in.
visit the book's web site here.

In Alphabet Anatomy, the letters love to share their lives, and their highest aspiration is that each child who meets them will embrace this wondrous journey, and develop a life-long love for not only reading but writing as well.

Linda Jones is a mom to four talented sons, ages 17 to 27, and the wife of a handsome firefighter. She began writing poetry in 1978 and sold several titles commercially in the scrapbooking market. Alphabet Anatomy is her first series of children's books. When asked what inspired her to write Meet the Capital Letters, Jones says it was quite by accident. She wrote the verses ten years ago while helping her youngest son (Branson) practice his letter writing skills, but tucked the verses away in a file cabinet. She recently discovered them while cleaning out the cabinet and asked Branson (who by then had demonstrated exceptional artistic talent) if he could make some drawings. Branson brought the letters to life, and Jones brought a mock book to the local library. The librarian praised the book and told Jones that parents had often asked for an alphabet book instructing on how to write the letters but she had not known of any. Jones was encouraged to move forward with publishing and Alphabet Anatomy was born. Jones says it has long been her desire to do something to make a positive difference in the world. If she can accomplish that goal by helping children embrace and master these vital skills, no matter how small a part, she will be most humbled and thrilled beyond comprehension.
A copy of this book was provided by the author and
Bostick Communications
for the purpose of this review.