Read to end of this tour as there is a free kindle download offer for this book and other special offers including a chance to win a delicious box of Divine Delights petit fours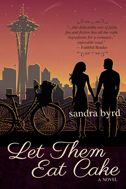 Book One in the French Twist Series.
Lexi Stuart is at a critical crossroads. She's done with college but still living at home, ready to launch a career but unable to find a job, and solidly stalled between boyfriends.
When a lighthearted conversation in French with the manager of her favorite bakery turns into a job offer, Lexi accepts. But the actual glamour is minimal: the pay is less than generous, her co-workers are skeptical, her bank account remains vertically-challenged, and her parents are perpetually disappointed. Her only comfort comes from the flirtatious baker she has her eye–but even may not be who he seems to be!
So when a handsome young executive dashes into the bakery to pick up his high profile company's special order for an important meeting–an order Lexi has flubbed–she loses her compulsion to please. Something inside Lexi clicks. Laissez la révolution commencer! Let the revolution begin! Instead of trying to fulfill everyone else's expectations for her life, Lexi embarks on an adventure in trusting herself and her God with her future–très bon!
Be watching for my review on this book and others in the series.
You may visit the author's blog
here
.

After earning her first rejection at the age of thirteen, bestselling author Sandra Byrd has now published more than forty books. Her adult fiction debut, Let Them Eat Cake, was a Christy Award finalist, as was her first historical novel, To Die For: A Novel of Anne Boleyn. To Die For was also named by Library Journal as a Best Books Pick for 2011 and The Secret Keeper: A Novel of Kateryn Parr, was named a Library Journal Best Books Pick for 2012. Roses Have Thorns: A Novel of Elizabeth I, will publish in April, 2013.
Sandra has also published dozens of books for tweens and teens.
A former textbook acquisitions editor, Sandra has also published many nonfiction articles and books. She is also passionate about helping new writers develop their talent and their work toward traditional or self publication. As such, she has mentored and coached hundreds of new writers and continues to coach dozens to success each year.
Please visit www.sandrabyrd.com to learn more, or to invite Sandra to your bookclub via Skype
.

Do you have a favorite writing spot...(corner nook, room, chair)
I have an office, which I love. Earlier in my writing career I wrote "just anywhere" and while that certainly worked, it's better to have a set-aside place where I can close the door! My office faces out, so I can see who is coming and going, and it has a lovely water view beyond it, too. I have book and books and books, and often prints on the wall that relate to whatever I am writing at the moment. I love listening to music while I write and found that gamer headphones, actually, work best!
Your favorite eating restaurant (cuisine)
It would be divided between Indian food and French pastries. For the main course, definitely Indian. I love Butter Chicken and, because my daughter is a vegetarian, Butter Paneer. One thing I love to do is, once I taste something I love in a restaurant, I try to recreate it at home. I'm working on Butter Chicken right now and just learned that the secret to the sauce, besides the spices, is ground cashews!
Favorite snack (prefer: sweet or salt)
Oh dear, both, in their own place? I remember the day I discovered a lightly chocolate dipped potato chip. Heaven! I do like Lemonheads while I'm working, so I guess that would be sweet and tart, right?
Favorite dessert(prefer: cake or pie)
Cake. For Sure. Let Them Eat Cake! The very best cakes are made with cake flour - so tender. I'm planning to make buttermilk Red Velvet cupcakes for Valentine's Day.
Do you have a daily schedule with a writing slotted time?
I write from early in the morning till late at night, but the best times, I think, are early afternoon and early evening. I have the "busy work" of the day behind me and can put my headphones on and slip away into the story. What has been your most unique item that has promoted a story Well, I love the petit fours that we're giving away on this book tour. When this book toured for the first time in print, little jars of sprinkles were made up with a Let Them Eat Cake label, and I thought that was clever, too!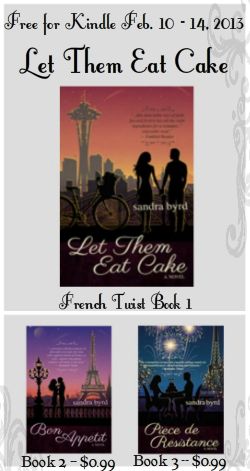 Special offer Feb. 10-14th only
to download a
FREE
Kindle copy of
Let Them Eat Cake
Sandra is also offering e-books two and three in the French Twist series, special price of 99 cents each during this tour Feb. 10-14 only
Bon Appetit
Piece de Resistance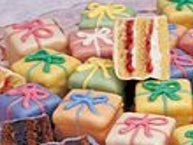 To Enter Sandra's Petits Fours Giveaway
An ecopy of these books was provided by the author in exchange for this post and my honest review.