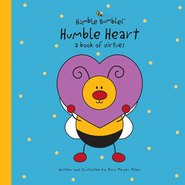 Meet Humble Honeybee and his virtue friends in this wonderful children's book of virtues. The pictures are bright, bold and colorful; the cover is hardback with a soft cushion front cover. The characters will help reinforce those character traits that you are longing to instill in your child. Each virtue is defined and then the story will go into detail showing how the virtue is carried out or experienced in the characters life. At the end of each character trait there is a page that asks the reader if they have ever experienced a time when they put to use this virtue. Good way to get your child to talk and reinforce the virtue. There is also a scripture verse that corresponds with the virtue as well. The character lessons are very simple that a two or three year old would benefit from this book. 7-8 year old might be a little bored with it. Your young children will fall in love with the animal characters.
Be sure to visit Humble Bumbles web site
here
for fun things to do .
Check out Humble Heart page
here
for more information
A copy of this book and dvd was provided in exchange for this review by...