Teaser Tuesdays is a weekly bookish meme, hosted by MizB of Should Be Reading. Anyone can play along, so I thought I would play for fun! Just do the following:
Grab your current read

Open to a random page

Share two (2) "teaser" sentences from somewhere on that page

BE CAREFUL

NOT

TO INCLUDE SPOILERS! (make sure that what you share doesn't give too much away! You don't want to ruin the book for others!)
Share the title & author, too, so that other TT participants can add the book to their TBR Lists if they like your teasers!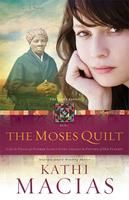 From the time Mazie had visited her great-grandmother in Alabama, she'd been told never to open that chest without permission-and Mimi had never given it.
~taken from p. 24&25 of
The Moses Quilt
by Kathi Macias
~taken f

rom the prologue:
Edward's eyes captivated her, as they always did. She felt as if she were gazing up into warm, chocolate pools, bidding her to abandon herself to their delicious charm. And oh, how she wanted to do so! But something-always, there was that awkward, inconvenient something-holding her back, restraining her from yielding to the joy she so longed to experienc

e.
If you liked this tease visit Kathi's book tour here to read the whole prologue
~taken from the f

irst chapter:
Mazie Hartford hadn't set foot in Prattville, Alabama, since she was eight years old-nearly sixteen years ago-but she would never forget the summer she spent there, visiting her great-grandmother. Even the locals said it was the hottest July and August any of them could remember, and Mazie was certain that was true. Anything hotter would have killed them all, and the young girl imagined that even if she'd had some serious

unforgiven

sins on her account and she'd ended up in hell, it couldn't have been any worse than the attic dedroom she'd been assigned when she first arri

ved.