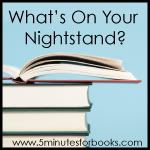 Nightstand???? There's a nightstand under there?????? You have to be kidding me, right? Tell me you're kidding. Oh, I wish my camera was working. My memory disc decided to take a vacation. Have to buy a new one. Bummer! For now you'll just have to look in my side bar at my books I'm presently reading bookshelf. Sorry.
Just hit me. I'm going to make this a giveaway. You find my bookshelf of books I'm presently reading. In a comment tell me the title of a book you found there and I'll draw one winner to receive a copy of I Am Hutterite by Mary-Ann Kirkby...
When will the giveaway be over??? I don't know that's the mystery. Whenever, I deem it over within the week though. Be sure to leave a way of contact.