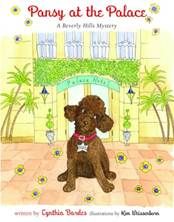 Pansy at the Palace
by Cynthia Bardes is a book filled with curiosity and adventure along with teaching friendship and one is never to little to make a difference. It is a tale both fanciful and entertaining. Who can resist the poodle on the front cover? The mystery is set in high class society, Beverly Hills, at the Palace Hotel where Pansy quickly wins the hearts of the guests, residents and employees as well as those that read this story. Pansy is a delightful read with images that are just as delightful and charming. The illustrations portray brilliant, loveable characters. Capture the imagination of your young when with Pansy as she unfolds the mystery that lies in the pages of her book. The book also brings awareness to animal shelters, humane societies and rescue organizations.
To learn more about this book visit the website
here
.

Pansy's life blossoms when she is adopted from an animal shelter by a loving family and little girl named Avery. Swept into her new life at the Palace Hotel in Beverly Hills, this smart and courageous puppy saves the day by solving a mysterious theft. Pansy at the Palace celebrates the spirit of curiousity and exploration, and teaches us that no one is too small to make a difference in the lives of many!
32 pages
casebound with jacket, full color
published by Octobre Press
A copy of this book was provided by the author and
Bostick Communications
for the purpose of this review.