Teaser Tuesdays is a weekly bookish meme, hosted by MizB of Should Be Reading. Anyone can play along, so I thought I would play for fun! Just do the following:
Grab your current read

Open to a random page

Share two (2) "teaser" sentences from somewhere on that page

BE CAREFUL

NOT

TO INCLUDE SPOILERS! (make sure that what you share doesn't give too much away! You don't want to ruin the book for others!)
Share the title & author, too, so that other TT participants can add the book to their TBR Lists if they like your teasers!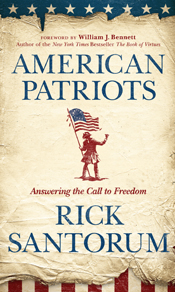 Growing up in North Carolina, Nancy became an accomplished frontierswoman, developing skills as an herbalist and an expert sharpshooter. her fearlessness and hair-trigger temper helped earn her the nickname War Woman from local Cherokees.
~ taken from p. 51 of
American Patriots: Answering the Call to Freedom
by Rick Santorum
chapter is:
Nancy Morgan Hart: War Woman
(ever heard of her)
Life, Liberty and the pursuit of Happiness." Couldn't Jefferson just as easily have written those enumerated rights, given to all by our Creator, in a different order? Liberty, happiness, and life? Or happiness, life, and liberty? The answer, of course, is that he could have written them in any order. But he made this decision consciously, knowing that each right if foundational for the next.